How was your brand's performance compared to the industry stats? Recession concerns were first and foremost when it came to retail forecasts. Various consumer surveys were providing feedback that shoppers were going to stay away, or drastically decrease their spending, this holiday season.

Whether it was anxiety over inflation, rising prices, or interest rates, prognosticators foresaw the worst holiday season since 2015. They were expecting a decline in online shopping on Thanksgiving, for the first time, since the data had been tracked.
Typically, e-commerce experiences a boost, with the highest sales generated online in this critical first week. It is considered indicative of how the rest of the holiday season shopping will pan out. But many analysts felt that the anticipated recession would slam the brakes on normal purchasing behavior.
Reasons for Holiday Cheer
Across multiple verticals, the predicted slump did not occur. Instead, there was an increase in YOY figures. Forewarned of potential consumer hesitancy and dealing with the need to move excess inventory, retailers were strategic in presenting deals and discounts. These tactics were embraced by shoppers. Online activity was also likely assisted by the fact that many brick & mortar stores (including heavy hitters such as Best Buy, Walmart, and Target) were not open on Thanksgiving day.

Per the Adobe's 2022 Holiday Shopping Report, online shopping on Thanksgiving brought in $5.3 billion. The good news continued on Black Friday with $9.12 billion in e-commerce reported (the first time that Black Friday broke $9 billion online and it's two percent points over last year). While Cyber Monday cashed in with $11.3 billion per Adobe–a new record (up 5.8% over 2021).

Top verticals for Cyber Monday, according to RetailDive included, "toys, electronics and computers drove online spend, with the toys category seeing a 684% jump in sales compared to an average day in October." But, again, deep discounts were a driving factor, "Discounts hit record highs across those categories, where electronics price cuts peaked at 25% off compared to 8% in 2021."

Overall, Adobe is estimating $210.1 billion in revenue for the entire holiday season. That figure translates into a modest 2.5% growth rate. It's a home run, however, considering that a decline had been widely predicted. Additionally, the higher growth rates for online revenue in 2020 and 2021 benefited from the greater/rapid adoption of online shopping due to the pandemic.
What will the New Year Bring?
A catastrophe was narrowly avoided because retailers were aggressive in their discounting and deals this holiday season, but 2023 promises to be a challenge. Economists are telling us that a recession happening isn't "if," but "when," due to higher employment and higher wages. Businesses are already feeling the pain with higher interest rates meant to prevent inflation, but so far have not applied the brakes.

This is the time to closely examine your e-commerce data and technology. Look at what you could be doing differently–consider bigger, smaller, quicker, slower, reduce or build. This is an innovation exercise where you question the way that your business has always been conducted. Kick the tires on "tradition." You want to determine what's working and what's not working to make the changes that will allow you to remain competitive or secure a competitive advantage.
Accelerate Growth with a Frictionless Shopping Cart
Shoppable® offers a triple patented multi-retailer checkout, which those who use standard affiliate providers probably wonder why multiple retailers are needed… Being able to offer multiple retailers in a truly seamless checkout experience reduces the abandonment cart rate.
Too many marketers focus only on conversions and then lose sight of whether their consumer purchases are completed.
On top of higher-than-average conversion rates, Shoppable's customers using our Universal Checkout averaged an extremely low 5.79% cart abandonment rate (compared to the industry average of 59% to 79%). This data was verified by a third party in our recent Commerce Everywhere Report.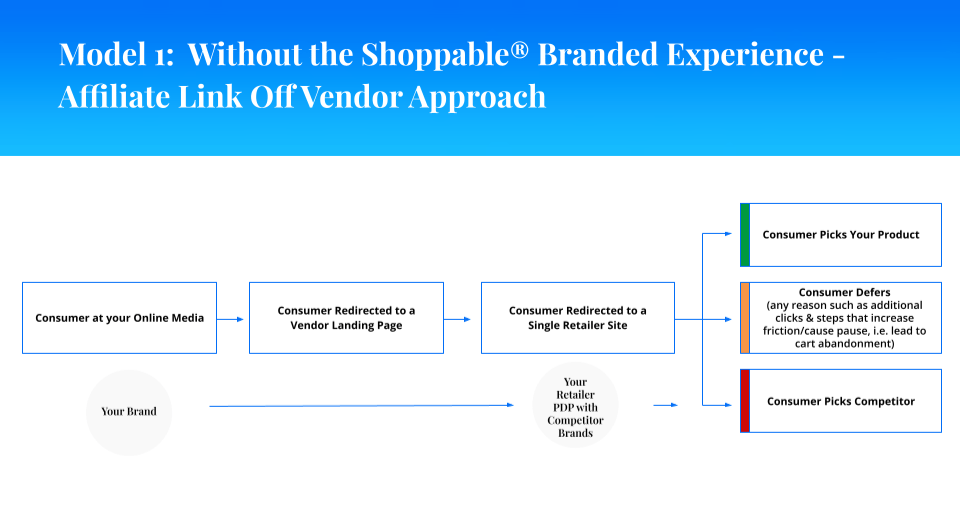 Why Universal Checkout is Better
"Wanting to find a better deal" is a major cause of cart abandonment. Universal Checkout satisfies this consumer need and avoids abandonment.
Sure, an affiliate vendor could present multiple retailers, but the difference is that Universal Checkout not only presents multiple retailers, but it also provides their product pricing, shipping rates, free shipping minimums, and if the product is out of stock–all, in one glance. Your shoppers are able to comparison shop all of this pertinent information within your shopping cart. It is also key that no competitive products are shown.
"Not being able to qualify for free shipping" is another top reason that your carts are abandoned. Prevent that issue with Universal Checkout.
Old-fashioned affiliate solutions force your consumers to bounce from retailer site to retailer site. The more steps involved in the checkout, the higher the likelihood that a sale will not occur. Additionally, Universal Checkout allows your consumers to continue shopping for different products within the same shopping cart (but they only have to enter their shipping and payment details once) to meet free shipping minimums. You can also bundle products together to meet free shipping thresholds with Universal Checkout.
Facing the Deprecation of 3rd Party Cookies by End of 2023
If improving your revenue through increased conversion rates and reduced cart abandonment is not enough, Universal Checkout also provides 1st party customer data. Now is the time to prepare for the deprecation of 3rd party cookies by Google. The traditional ways of running e-commerce are disappearing and you want to stay ahead of the curve. Retargeting will be transformed with higher quality consented customer data. Why settle for the black hole of the affiliate link-off experience? With Universal Checkout, you obtain all the customer data that is collected AFTER your consumer presses the "Buy" button.

Interested? Contact us to learn more about how you can employ Shoppable's technology to grow your revenue in 2023.