Updated 9/7/2022. We are often asked how Shoppable's Universal Checkout compares to traditional affiliate links, including "Where to Buy" link-off vendors. This post is an overview of what you need to know when looking at KPI metrics such as conversion rates (defined as purchases/sessions*100).
The average conversion of affiliate links (to a retailer site) is .5%. In contrast, for all e-commerce sites, the average is between 1% to 2%.
Shoppable® has been driving shopper checkouts at a rate significantly above the affiliate industry average. The total Shoppable® average even beat out the e-commerce industry standard, crossing the finish line at 2.28% for 2022 YTD.
Shoppable's Commerce Suite provides direct-to-consumer (DTC) like results without the overhead expense of inventory or fulfillment. Many brands, using Shoppable's patented Universal Checkout, see conversion rates over 4%.
Compared to affiliates, that's an over 700% increase in performance!
A Deeper Dive into E-commerce Conversion Rate Data
There are numerous factors that can determine conversion rates. The Google ranking of your website, for example. Paid advertising, search, or social media can be another key influence. The communication and creative strategies that were implemented along the user journey can also have a big impact.
Conversion is also affected by your vertical. This chart (below) depicting 2021 conversion rates, per industry, via Popupsmart is a useful guide. It can be summed up as lower-priced items are more likely to be impulse purchases, while higher-priced items may have more mobile searches for price comparison/wish list creation (lowering their conversion rates).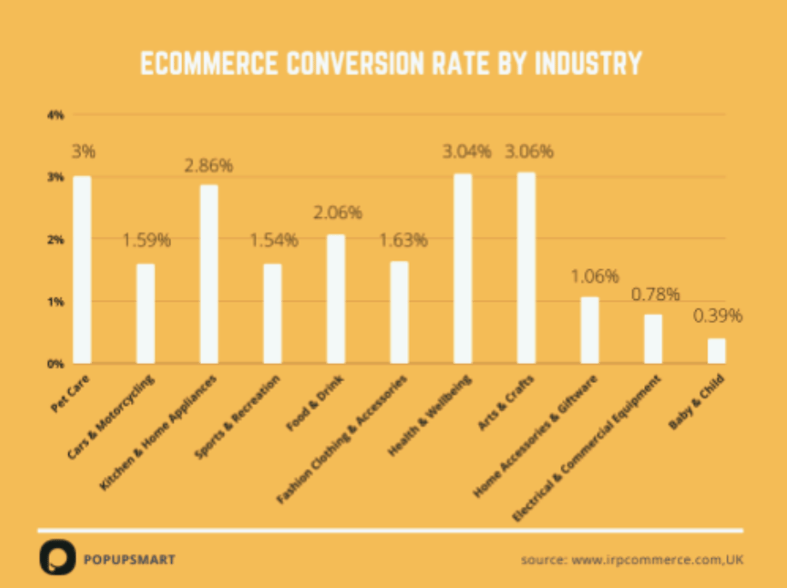 There are factors, however, that you can easily control with the choice of your commerce platform. Selecting the right technology can provide you with a higher customer value proposition and lower your customer acquisition costs.
The Shoppable Difference: Providing an Outstanding Shopper Experience
By removing common barriers and creating a frictionless purchase experience for your customers, Shoppable's Universal Checkout not only increases add-to-cart rates but also reduces cart abandonment rates, thereby boosting your conversion rates (and sales).
All possible customer friction points, which could derail your conversion are addressed. With Shoppable®, your customers do not link off to another site. Nor are your shoppers exposed to competitors' products, right next to yours, as an option to purchase. Shoppable® allows all of your media dollars to go to pages that you control, promoting only your products.
Your shoppers remain on your digital property throughout the transaction, in a checkout experience on a Shoppable® landing page that you can customize to your brand with your logo, choice of fronts, and brand color. Shoppable's technology can be utilized anywhere that your consumer is found online. From websites, online ads, and social media to videos, apps, emails, and more.
Since Universal Checkout allows multiple products and retailers in the same shopping cart, your shoppers can purchase multiple products, from different merchants, in a single transaction. This allows you to maximize the order value and SKU sell-through. Customers no longer bounce from retailer site to retailer site (a major reason for cart abandonment) trying to check prices and product availability.
All of this creates a fast, secure, and trustworthy environment for your consumer, which boosts conversions.
Shoppable® also goes above and beyond with our Shopper Support department. A system of checks and balances preemptively reduces canceled orders by flagging common ordering issues. Consumers are automatically contacted, and problems, such as an invalid address or method of payment, are quickly resolved. Merchant substitution is also handled by Shopper Support to prevent cancellation due to supply chain disruption.
Interested? Contact us and learn more about how you can use Shoppable's technology to rev up your KPIs and grow your business.