An excerpt from the Shoppable® Commerce Everywhere Report:

Insights from Consumer Behavior Research, Industry Stats,

and Customer Data for Shoppable® Experiences



Maximizing conversion is the goal of every business. It starts with examining best practices, investigating strategies, and employing new tactics. Boosting conversion rates often means pursuing innovation and challenging the status quo.
That said, let's look at Shoppable's multi-retailer shopping cart as opposed to traditional affiliate link-off single-retailer providers.
Does Universal Checkout convert better than affiliate links?
The data says a resounding "yes." From seeing a 25% improvement in conversion rates (in comparison to specific industry averages) up to 700% improvement (when compared with affiliates), the Shoppable® blog post, How Affiliate Conversion Compares with Universal Checkout, cited some pretty remarkable statistics.
Even at the low end, this is a significant increase in sales.
When making comparisons between industry-reported data and aggregated Shoppable® customer data, we were able to confirm the results reported in the company blog. Our analysis showed conversion rates with Shoppable® are much higher.
The next question is, when compared to other shopping approaches, why?
Seeing dramatic improvements in sales after the implementation of Shoppable® technology didn't seem completely surprising when we thought about the "why."
There's plenty of research to suggest the reasons, including:
Shoppable® simplifies the path to purchase for those who are either getting to know your brand or love it already, through:
Greatly reducing the number of clicks, a.k.a. friction, that it takes a consumer to go from discovery to purchase.
Providing a seamless custom-to-the-brand experience from shopping cart, checkout (which remains on the brand's digital media and/or channel with no link-off to a retailer's site), to the thank you/confirmation email.
Consumers have a choice of multiple retailers within the shopping cart (enabling easy comparison of pricing, shipping fees, and free shipping minimums).
Further, multiple products from multiple retailers can be purchased. Consumers can meet free shipping thresholds by taking advantage of product bundling, continuing to shop by adding more products to the cart, and still be able to checkout in a single transaction.
Consumer privacy is also protected through the collection of consented first-party data (a real asset for Shoppable® ads due to the deprecation of third-party cookies).
Why are consumers more likely to buy through Shoppable® Universal Checkout than other processes?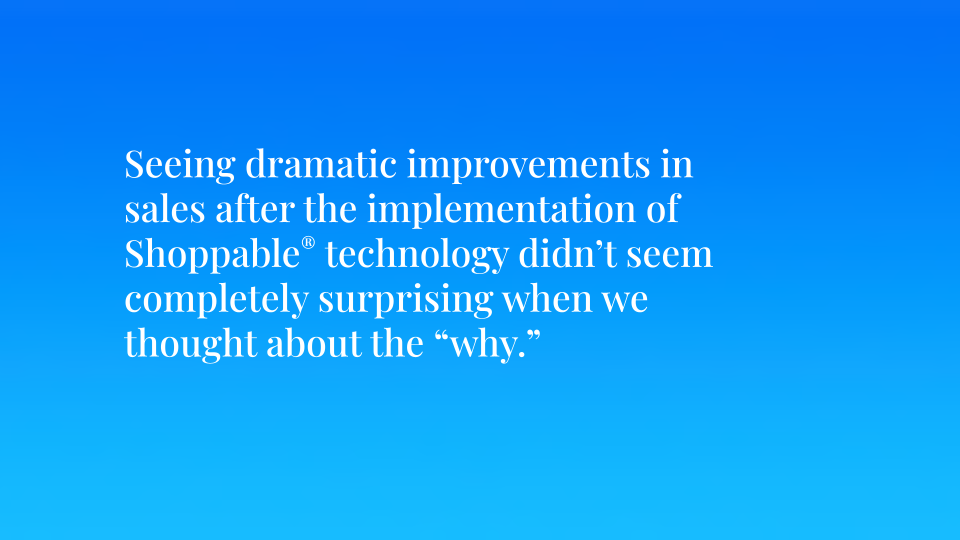 The Consumer Journey Begins
If we think about a consumer's process, they start with some kind of problem or need. Consumers are problem-solvers. They buy products that address needs that arise, or they buy products because they see the opportunities that the products provide for improving their lives in some way. This problem kicks off the decision-making process.
In the case of need recognition, something causes the consumer's situation to deteriorate (Marell et al., 2009). For instance, "I had a winter coat, but it's ripped, so now I need a new one." In this case, I will likely be looking for a quick solution. If I am getting information from a trusted source, and that source offers me a way to complete my order quickly, it improves the chances that I'll make the purchase.
In the case of opportunity recognition, I am suddenly made aware of a product that can improve my life beyond what I had thought was possible.
In other words, I didn't know of a need, but now that I'm aware of this opportunity, I realize that more is possible (Marell et al., 2009). If I'm browsing the website of a preferred brand, or looking at the latest post from a preferred influencer, I may see a product that I wasn't looking for but immediately clicks with me. A quick path to purchase will help me act upon that recognized opportunity.
An example of this would be the #tiktokmademebuyit phenomenon.
Creating a Trustworthy Checkout Experience
If we are getting information from a source we trust, then we are more likely to act upon it. We are always assessing how much we want to trust a source–in other words, we are evaluating the source's credibility, and most good marketers work toward building trust between themselves and their customers. This is not the only reason trust between consumer and company is vital.
Note that in either of the two hypothetical scenarios presented, whether based on need or opportunity recognition, the problem-solver is interacting with a trusted source of information. As consumers, we want to mitigate risk (Solomon, 2018). We want to feel like we aren't likely to regret our purchases.
Edelman is a global communications organization that also studies social issues including trust. Every year it releases the Edelman Trust Barometer and report. In its 2021 report, it noted that overall trust has had a decline compared to previous years (Edelman, 2021).
The only area that appeared to be trustworthy among the four categories of institutions was business (the other three are NGOs, Government, and the Media) (Edelman 2021). The report noted "business is not only the most trusted institution among the four studied, but it is also the only trusted institution with a 61 percent trust level globally, and the only institution seen as both ethical and competent" (Edelman, 2021).
Therefore, it is important for businesses to do what they can to maintain and grow the trust their consumers have in them. One way this can be done is to design their ecommerce strategy and infrastructure with trust in mind.
When designing the user experience (UX), trust may not be the first thing that comes to mind. In a digital space consumers do not have the ability to make a connection through a real life (IRL) sales person. Instead, the organization is relying on the digital content and structure it has in place to act as a "silent salesperson." Each step along the UX has the potential to increase or decrease consumer trust and this includes the checkout.
A recent article from Salesforce noted the payment process "affects the shopper's experiences, your checkout conversion rates, and brand loyalty. It needs to be simple, accurate, and safe — every time" (Dorshorst, 2022).

Want to learn more about building consumer trust? Download the full Shoppable® Commerce Everywhere Report, authored by Dr. Rob Boostrom, UNIVERSITY OF WISCONSIN-WHITEWATER, and Dr. Noelle Butski, UNIVERSITY OF ARKANSAS-LITTLE ROCK.