Consumer packaged goods (CPG), refer to products that are consumed regularly and must be replaced frequently. Products as diverse as food, beverage, cosmetics, over-the-counter drugs, cleaning and office supplies fall into this category. This 3-part series is meant to be a comprehensive guide for consumer product marketers on how to employ first-party data for a competitive edge and sustainable revenue growth.
The series starts with a quick overview on what is first-party data and its unique advantages and benefits. Then, the article continues on how to enrich your CRM with first-party data's consumer insight for running loyalty programs with rewards that will retain customers and result in repeat sales.
In part two, specific marketing strategies and tactics will be discussed. These range from uncovering your most profitable consumer segments, building look-alike shopper profiles, implementing trigger event or contextual targeting as well as mass personalization for more effective campaigns.
Lastly, part three will delve into how you can obtain business practice insight through knowing what are your best-selling products, impact of pricing, most productive retail relationships, and other pertinent first-party data. Allowing you to make procurement, operations, supply chain, and new product development decisions based on actual data, not guesswork.
Obtain Consumer Insights with Your CPG First-Party Data
First-party data is the information that is provided by your consumers with their consent to use it. In the case of the Shoppable® Commerce Suite, it's the full transactional data from your online sales. Our triple patented Universal Checkout allows checkout within your channel–whether a site, app, email, online ad, or social platform–avoiding the black hole of data seen with traditional affiliate link-offs (where retailers own all your data, after the "Buy" button is clicked).
You are able to obtain all the order data about your products sold, along with the shoppers making these purchases, in near-real time, via a 24/7 online dashboard. It's fresh, relevant data, unique to your products and your customers.
It includes metrics such as the merchant selected by the consumer for fulfillment, product pricing, and the quantity ordered. There's also the complete and full PII, including the shipping and billing addresses. Shoppable®, further, provides an email opt-in during checkout. Your customers are given the option to provide their email addresses for your loyalty programs, mobile apps, product updates, newsletters, discount codes or coupons, or, even, a sweepstakes entry. You choose the incentive–the more attractive–the better.
Did you know that email opt-in presented in checkout vastly outperforms ones shown via a standard website pop-up? Per Sumo, an email marketing services provider, the U.S. average for email opt-in collected via a website is 1.95%. Shoppable® Commerce Suite email opt-ins average a whopping 34.06%. The resulting email list is also more valuable (compared to one compiled from random website visitors) as these are consumers who have actually purchased your products. Thus, they have pre-qualified themselves as your best prospects for repeat sales and upselling. This email list will be a key asset for your future marketing efforts.
First-Party Data has Many Advantages Compared to Third-Party Data
Third-party data, which is purchased from 3rd parties that track potential customer data online via cookies from various sources such as websites, marketplaces, and social media platforms. This data may also be stitched together with offline sources such as nonprofits and government sources (as in public demographic data). It is, then, aggregated and segmented, and sold to companies for advertising purposes. Unfortunately, it is available to anyone who wants to buy it, including your competitors.
Third-party data is often dated, inaccurate, ineffective, and worse–wasteful of your budget dollars.
Once it was the only recourse for CPG marketers, given the lack of direct access to consumers, but now with Shoppable's Commerce Suite, you can access the far superior first-party customer order data.
How Your First-Party Data Reveals New Opportunities
Shoppable® provides 40+ parameters related to purchase and PII data along with 25+ interaction events related to consumer engagement. You are able to fully understand, in detail, the customer journey and your conversion funnel.
Having access to your first-party order data deepens your knowledge of customer behavior, preferences, and the touchpoints made before and during a purchase, allowing you to develop trust and loyalty, and to deliver relevant targeting and personalized experiences.
You'll be able to reach out and confidently engage with customers at any stage of their journey.
To have the greatest value and to be statistically significant, it is a best practice to gather as much of your first-party data, as possible, to produce the most representative sample of your potential customers. You should aim to attract the maximum number of consumers to your commerce offerings. Advertise, promote, and communicate via all available avenues (websites, apps, influencers, social media, online ads, paid search, etc.) to direct traffic to the channels that are offering your Shoppable® Universal Checkout.
Additionally, this data should be combined with any other first-party or zero-party data that you may collect such as service center data; website, mobile app, and social media interactions; retail loyalty card and coupon-redemption data; SMS and email engagement (consumers that open and click); and historical purchase data.
Your proprietary first-party data can, then, be connected to create individual customer profiles, identify attribution, trends, and areas of improvement.
This is how you develop a deeper understanding of your consumers. You'll likely discover high-profit segments and trigger events/occasions that produce sales that were unknown before. First-party data allows you to see the bigger picture, and improve your overall marketing performance.
First-Party Data Easily Segues into Loyalty Marketing
Along with insight, comes access to your consumers.

Loyalty programs created from first-party data are a robust tool for retention goals and extremely cost-effective since you're engaging with consumers who are already customers. An American Express blog states that the bulk of customer research shows that it costs between 6 to 7 times more to acquire new customers as it does to retain your existing customers. Additionally, Ali Cudby, CEO of Your Iconic Brand and adjunct professor of entrepreneurship at Purdue University, shares, "If you can improve retention by just 5 percent, profitability has been shown to grow by anywhere between 25 and 95 percent."
Universal Checkout's email opt-in is a wonderful tool to sign people up for loyalty programs run via your website or mobile app. You can, then, offer personalized experiences, perks, and rewards (utilizing first-party data to offer incentives based on previous purchases and preferences) to encourage brand allegiance, product reviews, new customer referrals as well as repeat and new product purchases.
Be Sure to Segment Data and Personalize Your Loyalty Program
Determine who exactly are your top customers and figure out what is important to them.
Your loyalty program decision-making should be based on data. McKinsey partner Jess Huang suggests some caution, "Don't just design a program you think you or your consumers would like. Look at your customers' transaction-and-engagement data and understand how they're interacting with you. Do the consumer research to learn what they want and what you can offer them before you even start thinking, "Well, I want my loyalty program to look like X." Having customer tiers can be a helpful device in setting up rewards that are appropriate to specific customer value.
Analyze your data to mine customer behavior, preferences, and lifestyle information that will impact your outreach, rather than have a one-size fits all approach. Personalization can be as simple as incorporating it in email communications, such as prominently using the customer's name, having different messages whether the recipient is male or female, and citing past product purchases.
P&G is an excellent example of a CPG company offering personalized experiences, perks, and rewards via their loyalty program, Good Everyday. It allows consumers to collect points for rewards as well as select charities in order to have a donation made on their behalf. Through the program, consumers not only buy a product, but can "be a force for good."
This ties to a growing consumer trend. More than 50% of consumers surveyed via Fairtrade America's Consumer Insights Report, "confirmed they have changed their purchasing choices within the past year to make a difference on economic, social, environmental or political issues, indicating people increasingly see their everyday shopping as an important way to make a difference."
P&G's loyalty program has responded, admirably, to consumers' interest in "shopping to make a difference," while turning them into advocates for P&G's brands.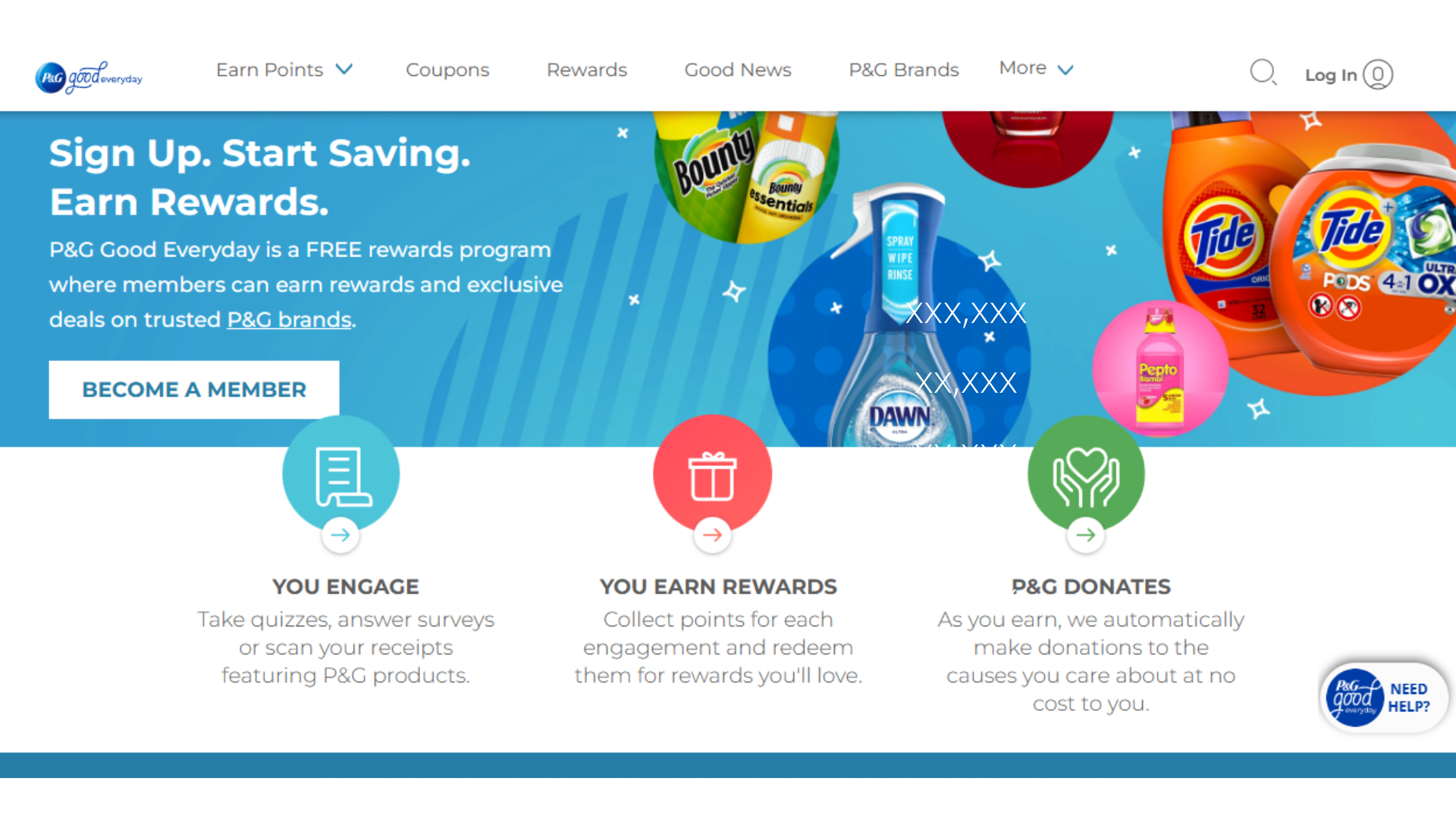 Use Your Loyalty Program for Customer Research
P&G utilizes customer participation, further, in well-designed quizzes and surveys to collect points, providing entertaining gamification of what could be dry educational or PR content (while also compiling useful zero-party data about customers).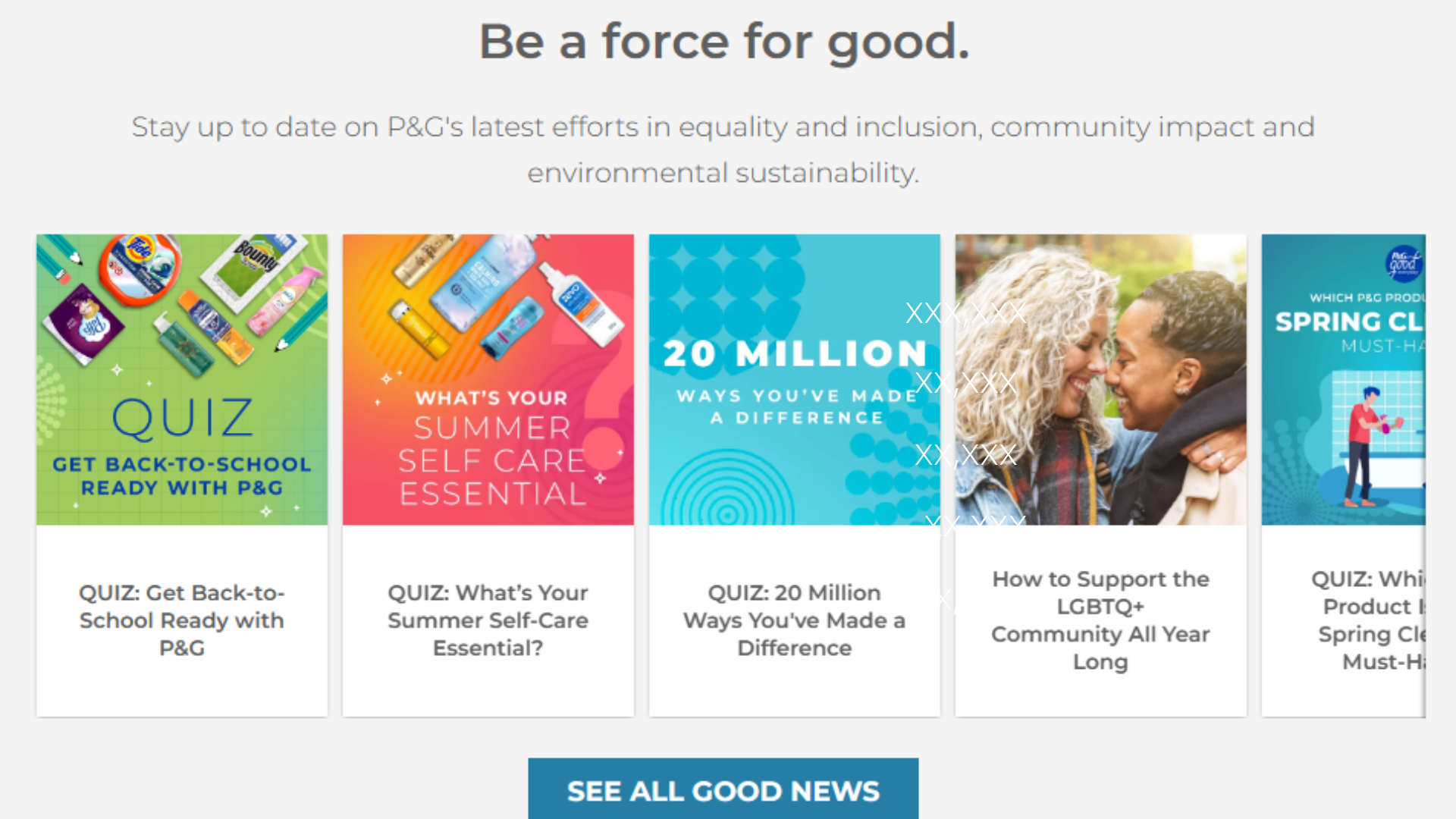 The best loyalty programs, like P&G's, allow for two-way communication.
Here, the company is able to discover what issues resonate strongest with their customers along with their product preferences and use cases.
This is information that can be used for even greater personalization during future loyalty program website/app visits. Content that would be the most relevant and interesting can be presented, based on a specific customer's prior activity and gathered data. Product recommendations can be made that connect to a customer's specific style, household or economic situation, or aspirations (especially those recommendations that complement products already purchased). This valuable customer feedback can also help shape future marketing and product development decisions.
Consider a Paid Loyalty Program
While loyalty programs are traditionally free, offering a paid version (subscription or one-time fee) allows CPG marketers to offer more targeted rewards that actually benefit the bottom line.
Statista.com statistics reveal that Amazon Prime members spend double the amount of non-Prime members. "Prime members spend an average of 1,400 U.S. dollars on the online shopping platform every year, compared to 600 U.S. dollars spending of non-Prime members."
A 2020 McKinsey survey concludes that, "members of paid loyalty programs are 60 percent more likely to spend more on the brand after subscribing, while free loyalty programs only increase that likelihood by 30 percent. In addition, paid loyalty programs drive higher purchase frequency, basket size, and brand affinity compared with free loyalty programs."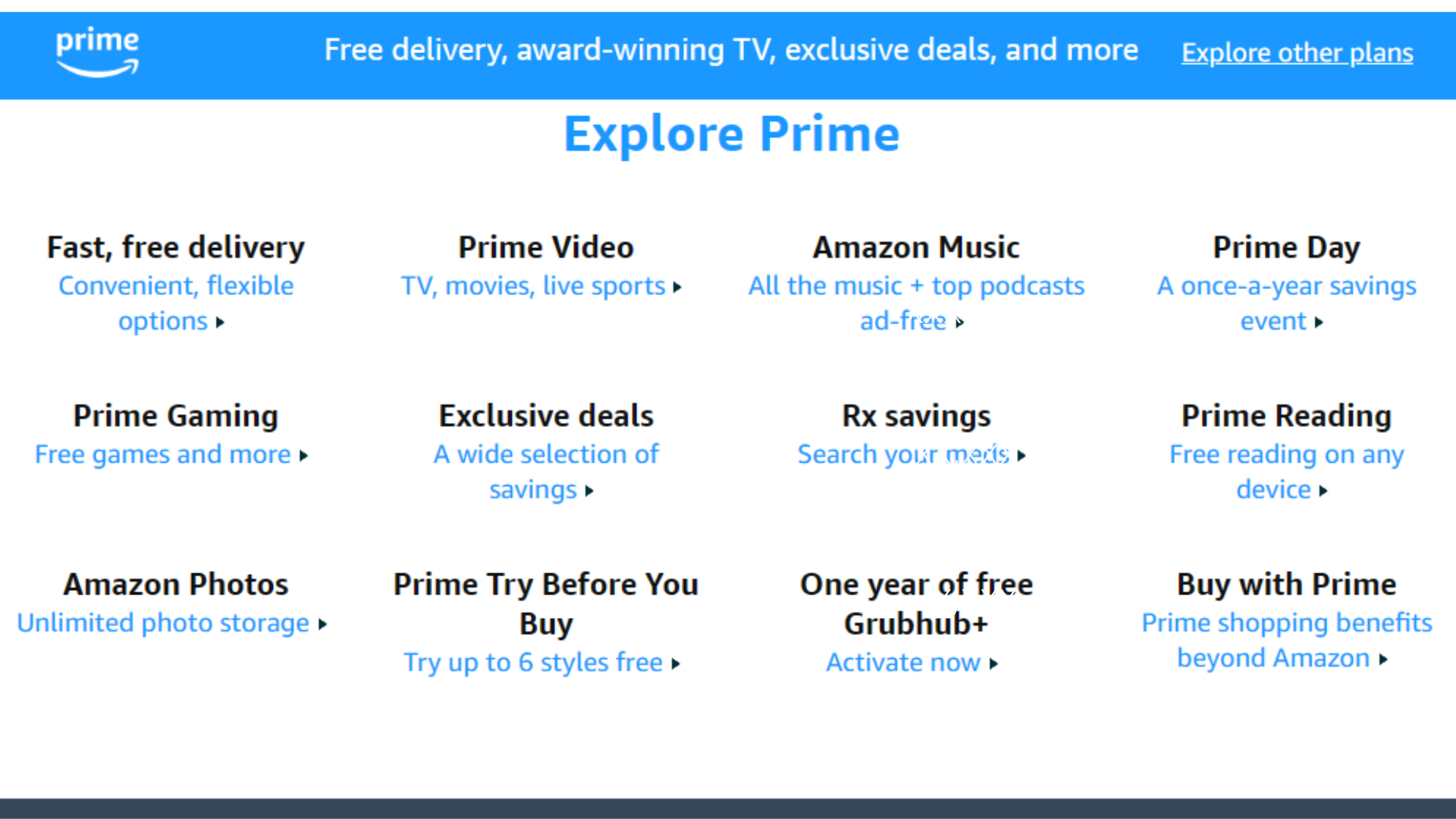 Amazon Prime is a leader in paid loyalty programs, but the survey revealed that entertainment and personal care are growing categories. While free shipping was the benchmark benefit for these programs in the beginning, it has become old hat. Premium rewards (that can not be afforded in the free programs) are now driving subscriptions. Amazon Prime, for example, also offers member-only access to Prime Day Sales, unlimited access to Prime Video and Amazon Music, and free storage for photos, music, ebooks, and video games.
Everything Starts with Collecting 1st Party Data
Now is the time to begin offering the personalized shopping journeys that your customers dream of experiencing.
As a CPG marketer, you need to collect the first-party data from your highest value customers. The in-depth, accurate, and timely data that will facilitate personalized communication and offers that will be welcome by your most loyal customers. Whether your outreach is via a website, application, online ad, or social media platform, out-of-box or completely custom, Shoppable® has the Commerce Suite solutions to optimize your brand's marketing efforts.